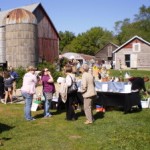 At the Farm Newsletter 
Hello,
Spring is here. How great! The rhubarb and garlic are up in the field. So wonderful! All the water in the meadow is gone. Last fall we planted a nurse crop of rye on some fields and it's up so nice. It's planted to put nutrients in the soil. This is the first year I've done this. You can always learn. I'm never too old to learn something new!
The seed potatoes and onion sets are here. The onion plants will be here the end of the week. And seed jars are being worked on. Sometimes it's like pushing a chain to get ready.
Brenda is transplanting tomatoes, kohlrabi, cabbage. Looks fabulous! So fun! 
I had my last visit to the doctor with my hip. It's just perfect! Now I need to learn to walk without the walker.  Can't believe how I lost the strength in that leg but it will be great soon. I have no pain. 
I have a new challenge in my life. One of my elves is gone. It's my friend, gardener and side kick Beverly. She will be forever missed. What a gift she was to me. She helped me at the Country Store, Red Rooster Antiques and here At the Farm.
I'm working on the Sister Saturday event.  It's fabulous to have a mission. I have some junk market vendors and hope to get more.  I have an antiques appraiser coming who will appraise your treasures. It's the first time I have had her. 
Sister Saturday is on 

May 10th

. Hours for the party At the Farm are 9 am to 3 pm Saturday only. Morning coffee and scones. 

Noon

 hotdogs. Jim Gilbert book signing his Minnesota Outdoor Wonders will be from 

10 am to noon

.
Mark Huebner of Waconia will do a cooking demo on Sister Saturday. He won a national cooking contest in New York and won a spot on the network cooking show that is on Sunday evening at 

8 pm

. It's on DishTV or cable. He will share his expertise of fresh asparagus and spring salad at 

11 am to noon

 in the barn.
Music by Traveled Ground 

11 am to 1 pm
CSA Information and sign up.
Mackenthun's Sausage and Deli of St. Boni
Sovereign Winery of Waconia
I still need junk market vendors for that day. Please call me for information about being a vendor. 952-442-4816 I do not charge for you to set up with your wares. If you have a nice craft that you do, that would work also. Set up on Friday or on Saturday early.
See you soon,
Donna
1 1/2 cup brown sugar
1/2 cub butter
2 eggs
2 cups flour
1 teaspoon soda
1/2 teaspoon salt
1 cup buttermilk (you can use sour milk)
1 teaspoon vanilla
2 cups cut rhubarb (1/2 to 3/4 inch)
Cream sugar and butter
Add eggs and beat
Sift dry ingredients
Alternate with milk and vanilla
Mix well
Fold in rhubarb
Pour batter into greased 9 x 13 inch glass pan
Put this topping on before baking.
1/2 cup white sugar
1 teaspoon cinnamon
1 cup coconut
Mix well then sprinkle on top of batter.
Bake in 350 degree oven for 45-50 minutes.