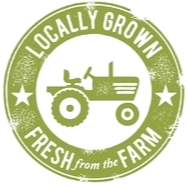 We offer Organic Farm Fresh Produce we've grown ourselves or from other local farmers. The fruist and vegetables are picked at the peak of ripeness to offer our customers the highest quality produce. Check back to see what's just been harvested. You can typically find the following fruits vegetables during these months.
Open Every Day June – October
Availability varies from weekly. Subscribe to our Newsletter to keep up-to-date.
APRIL


Bulk Vegetable Seeds
Seed Potatoes
Onion Sets
Onion Plants
Rhubarb Plants

MAY
Bulk Vegetable Seeds
Vegetable Plants
Container Gardens
Flowering Planters

JUNE
Bulk Vegetable Seeds
Hanging Baskets
Flowering Planters
Container Gardens
Herb Plants
Vegetable Plants
Rhubarb Plants
Patio Tomato Plants

Fresh Picked
Rhubarb
Lettuce – 7 varieties
Radishes
Green Onions

JULY


Sweet corn
Tomatoes
New red potatoes
Green beans
Lettuce
Beets
Carrots
Cabbage
Cucumbers
(salad and pickling)
Zucchini
Patty pan squash
Summer squash
Dill
Parsley
Basil
Cilantro
Herbs
Onions
Garlic
Shallots
Raspberries
Kohlrabi
Rhubarb
Fresh garden flowers
Maple syrup

AUGUST


Sweet corn
Tomatoes
Salsa peppers
Jalapeno peppers
Sweet green peppers
Cabbage
Kohlrabi
Carrots
Beets
New potatoes
Eggplant
Summer squash
Dill
Basil
Parsley
Cilantro
Herbs
Cucumbers
(salad and pickling)
Green beans
Garlic
Shallots
Onions
Watermelon
Muskmelon
Maple syrup

SEPTEMBER


Sweet corn
Tomatoes
Apples
Potatoes
PumpkinsSquash
– acorn
– carnival
– cream of the crop
– sweet dumpling
– buttercup
– butternut
– hubbardSalsa peppers
Jalapeno peppers
Red & green peppers
Cabbage
Carrots
Beets
Onions
Shallots
Dried herbs
Maple syrup
Honey

Gourds
Corn shocks
Hay bales
Ornamental Corn

OCTOBER


Pumpkins
– carving
– pie
– specialtySquash
– acorn
– carnival
– cream of the crop
– sweet dumpling
– buttercup
– butternut
– ambercupTomatoes
Onions
Shallots
Dried herbs
Apples
Potatoes
Salsa peppers
Jalapeno peppers
Red & green peppers
Cabbage
Carrots
Beets
Rutabagas
Yams
Honey

Ornamental corn
Gourds
Corn shocks
Hay bales
Broom corn