The Fields are a beauty
Hardly a weed in sight
The elves are doing their duty
Everything is shinny and bright
Hello!
What a grand time of the year. The lush greens of all plants. Fields and yards are wonderful. We are busy planting the crops the second and third plantings. You can plant all warm crops now – tomatoes and peppers, flowers, and hanging baskets.
Some of your flowers may need dead heading. That is picking the spent flowers off. Keeps the plant growing and looking better.
The garlic is fabulous. Best I have ever grown. Now scaping. We cut them off the plant and make pesto.
I now have local zucchini. Nice. The local asparagus is done.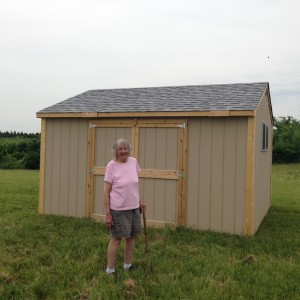 Hwy 5 from the Dairy Queen in Victoria to my farm is now closed until September 3rd. The detour is Right at the Dairy Queen in Victoria to Hwy 7, left to St Bonifacius (stop and go lights) left onto County Road 92 to Hwy 5, left to my farm.
From Waconia, you can come on Hwy 5 to my farm. From Hwy 212 to Waconia, past Target and Right to my farm on Hwy 5. Map.
My Produce Hut on County Road 11 and Levi Griffin Blvd will be open soon. Hours are Wednesday, Thursday, Friday, Saturday and Sunday 11AM to 6PM. Look for the dancing vegetables and there it is. Can you believe I need to learn all this? Makes my brain work.
The peas are blooming. The potatoes are also blooming. Should have peas to sell soon. Potatoes are after the 4th of July.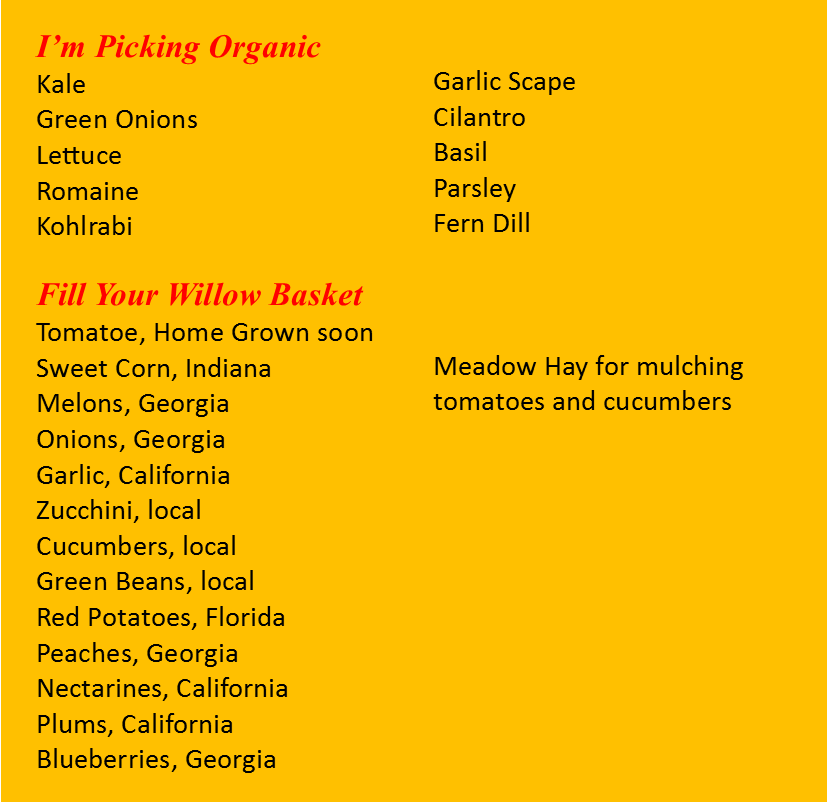 Creamy Radish Dip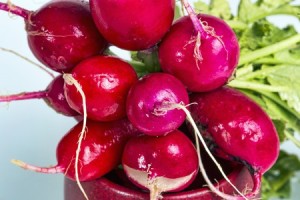 Makes about 2 cups. From "Fresh Farm Nation" by Martha Holmberg
1 (8oz) pkg cream cheese, softened
4 tbsp unsalted butter, softened
1 to 2 garlic cloves, minced, optional
1tsp Worcestershire sauce; more as needed
1/2 tsp fresh lemon juice
1/2 tsp celery salt
1/8 tsp paprika
Dash of hot sauce, optional
Kosher salt
1 c finely chopped radishes
1/4 c finely chopped green onions, white and light green parts only
*Fresh Parsley, optional
Fresh vegetable and crackers, for serving
DIRECTIONS
Put the cream cheese, butter, garlic, Worcestershire sauce, lemon juice, celery salt, paprika, hot sauce and salt to taste, into a medium bowl. Mix with a wooden spoon until well combined (you can also use a mixer on low speed, if you'd like). Stir in radishes and green onions. Chill for several hours to allow the flavors to blend.
Taste and add more salt, Worcestershire sauce or hot sauce, if needed, but be careful not to the the Wocestershire sauce overwhelm the delicate flavors. Serve with fresh vegetables and crackers. *Sprinkle with parsley for serving, if desired.
* Added by At The Farm
---
Barn Quilts For Sale Here            
The Barn Quilt Artist now has quilts here for sale. You can custom order a quilt for your Barn, Garage, Deck or wherever you would like to display it.
Books for sale – makes a great gift!