Rain Rain go away
The fields need planting
I really don't know what to say
So I'll just keep on chanting
Hello!
I have lake shore in my fields. In the higher fields seeds are coming up.It's a fabulous Rhubarb year. It's selling really well. It's strawberry rhubarb, so nice and red. The Rhubarb Bread is excellent.
It's too cold for the asparagus to keep growing. Needs to warm up a bit for that.
The Mother's Day Tea, Friends of the Barns of Minnesota and Red Hot Ladies Tours are over. They were very successful. Its so wonderful to share what we do. People don't expect the grandeur of a Barn Loft. I'm so excited to share my passion.
My friend Marc, who has The Noble Lion Restaurant in Victoria, is doing great. I'm so proud of him. It's so special to know him. He is open at 4pm. Everyone really loves his food.
My At The Farm 2 by Fleet Farm in Carver will have Home Grown Strawberries Saturday, June 10th. I can hardly wait. I will be there with Home Grown Vegetables in July.
| | |
| --- | --- |
| Now At The Farm Waconia | |
| New Baby Red Potatoes, Florida | Tomatoes, Canada |
| Vidalia Onions, Georgia | Raspberries, California |
| Garlic, California | Strawberries, California |
| Blueberries, Georgia | Tomatoes, Canada |
| Rhubarb Organic, At The Farm | Organic Brown Eggs, local |
| Home Grown Strawberries | |
Ground Breaking For New Shopping Center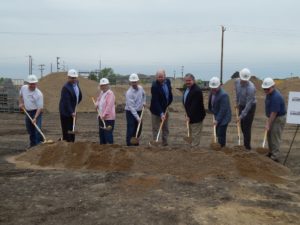 May 10th was a feather in my hat. I was invited to the Ground Breaking for the new Waconia Shopping Center in Waconia on Hwy 5 and Cherry Street. Culver's, Dollar Store, Coffee Shop, Hair Cut place, Holiday Gas Station, one bay left to fill. My son-in-law's company is the developer. It was fun to put on a hard hat and throw a shovel of soil.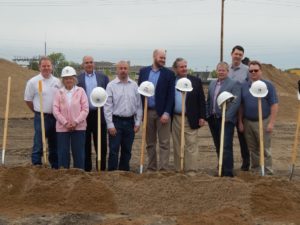 Gardening Tip
The soil is warm. You can plant all vegetables, plants and seeds.
Donna
At The Farm
952-442-4816
Rhubarb Torte
Crust
1 cup butter
2 cups flour
2 tbl sugar
Mix and put in glass 9 x 13 pan
Bake 15 minutes at 350 degrees
5 cups thin sliced Rhubarb
Filling
6 egg yolks
2 cups sugar
4 tbs flour
1 cup whipping cream
Mix, pour over Rhubarb
Bake at 350 degrees for 35 minutes
Meringue
Beat 6 egg whites
12 tbs sugar, used one tablespoon at a time
1/2 tsp cream of tarter
Beat the whites and tarter, adding 1 tablespoon of sugar at a time. Beat very stiff. Spread over baked filling. Bake at 325 degrees for 15 minutes or until golden brown.
Don't use a convection oven, it blows the meringue!