Need Gardening Advice?
I'm here to answer your gardening questions and help you with all kinds of gardening needs, from flowers to vegetables! If you cannot come to my farm, Click on the links below for Gardening Tutorials on specific topics.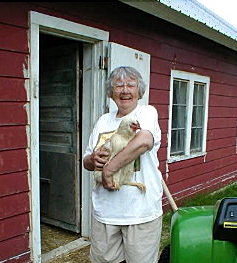 I can tell you how to prepare your soil for spring planting. And I'll help you choose the best varieties of vegetables for this area, those that yield the very finest tasting vegetables.  In April I have bulk vegetable seeds, seed potatoes, onion plants and onion sets.  In May I will have vegetable plants, herb plants, rhubarb clumps, and more!
Do you want to plant flowers in a beautiful container garden or hanging basket for spring? You can bring your container to the farm and I will help you plant it with plants I have here! Or there are containers available also to be filled with gorgeous flowers! When container gardening the soil nutrition is very important. I will have soil amendments to add to your soil for better growth and long lasting beauty of your container gardens.  And, of course, I will give you expert advice on how to care for your container gardens.
At the Farm Gardening Tutorials – click on the topic below

Soil Preparation –

here's where you have to start with your vegetable garden to be successful!

Cold Crops – Vegetables you can plant as soon as you are able to get in the garden, as early as April some years in Minnesota (Zone 4).
– Beets
– Cabbage
– Carrots
– Potatoes

Early Crops – Vegetables that can be planted in early May in Zone 4.
– Brocolli
– Brussels Sprouts
– Cauliflower
– Kohlrabi
– Lettuce
– Onion Plants
– Onion Sets
– Peas
– Radishes
– Rhubarb

Warm Weather Crops

– Vegetables you plant mid-May or later for Zone 4 

.




– 

Corn 


– 

Cucumbers


– 

Egg Plant


– 

Muskmelon


– 

Peppers (all varieties)


– 

Pumpkins


– 

String Beans (green and yellow)


– 

Tomatoes


– 

Watermelon


– 

Winter Squash (all varieties)


– 

Zucchini

Herbs
– Basil
– Cilantro
– Dill
– Fennel
– Mint
– Parsley
– Rosemary
– Thyme