The Golden Rod is Yellow
The Corn is Turning Brown
The Trees in the Apple Orchard
With Fruit are Bending Down
-Helen Jackson Hunt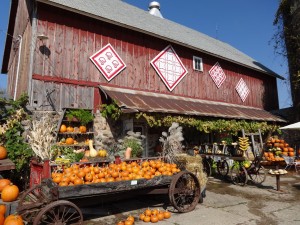 Hello!
Can you believe its September? Where did the summer go? The Farm is having a great season.
The Tomatoes and Peppers are slow but the rest is excellent. The pickling cucumbers are selling well. With all the rain its hard to keep up.
I was at
The Noble Lion
on Sunday. Had a friend, Karen, to join me. She works at Kowalski's in Excelsior. Marc gave us a Heirloom Plate of Tomatoes. It was so pretty and excellent flavor. I don't know how to fix that (never too old to learn). I got to meet his mother also, nice. His Noble Lion restaurant is doing just great. People love the food. Its in Victoria, Minnesota.
Now To Fall Gardening
Have you dug your onions or potatoes? They will start to re-grow with all the rain. Dig and put in your garage and cover them with a gunny sack or something, this helps the storage.
How to know when to harvest winter squash. Push your finger nail into the shell. If it dents its not ready to harvest. If you have something chewing on them in the garden, set a pan of water out. Something is thirsty.
Now about potatoes in the grocery store. It can be 2016 harvest. I have 2017 crop. They taste a lot better. Sweet potatoes also are 2016. New ones come in October.
Organic Harvest
Roma, Cherry and Slicing Tomatoes
Heirloom Tomatoes
Slicing and Chub Cucumbers
Pickling Cucumbers
Herbs
Potatoes, White, Yukon Gold, & Red
Candy Onions
Garlic
Eggplant
Kohlrabi
Beans, Green & Yellow
Beets, Red, Yellow & White
Local Harvest
Sweet Corn
Watermelon
Muskmelon
Fresh Fruit USA
Peaches
Nectarines
Green or Red Grapes
Apples – local Zestar, Sweet Tango & Chestnut Crab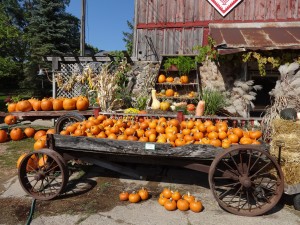 For Your Fall Dress, Ready Soon
Pumpkins, Orange, White & Mixed
Gourds
Mini Pumpkins, Orange & White
Broom Corn
Colored Corn
Pampas Grass
Mums, Yellow, Rust & Red
Grape Vine
Sun Flowers
Fall Zinnias
Corn Shocks
Hay & Straw
Shop At The Farm for all your Decorating Needs – A Designer is here to help you!
Enjoy!
Donna
Come see us At The Farm in Waconia!