At The Farm hosts many Barn Quilt Tours at our location throughout the spring, summer and fall. Learn more at the Barn Quilts of Carver County MN.
2017 Events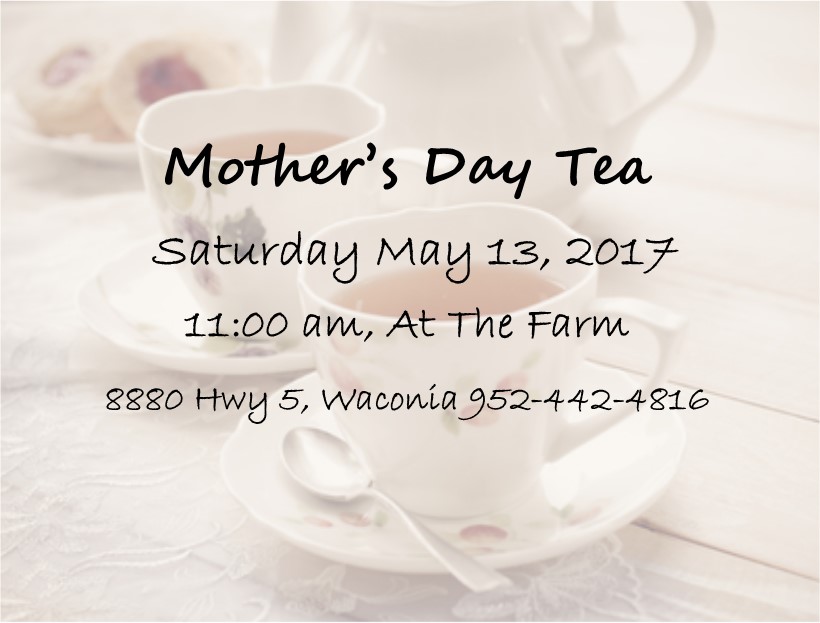 Savores Course
Roasted Tomato Bisque Soup
Scone Course
Cranberry Scone
Jam – At The Farm
Clotted Cream
Tea
Savores Course
Quiche Lorraine
Mini Rhubarb Muffin
Tea
Sweet Course
Lemon Mousse Phyllo Cups
Tea
THE MOTHER'S DAY TEA IS

SOLD OUT

! Thank you!
At The Farm
8880 Hwy 5
Waconia MN 55387
No credit cards
Handicap Accessible
---
Sister Saturday, May 14, 2016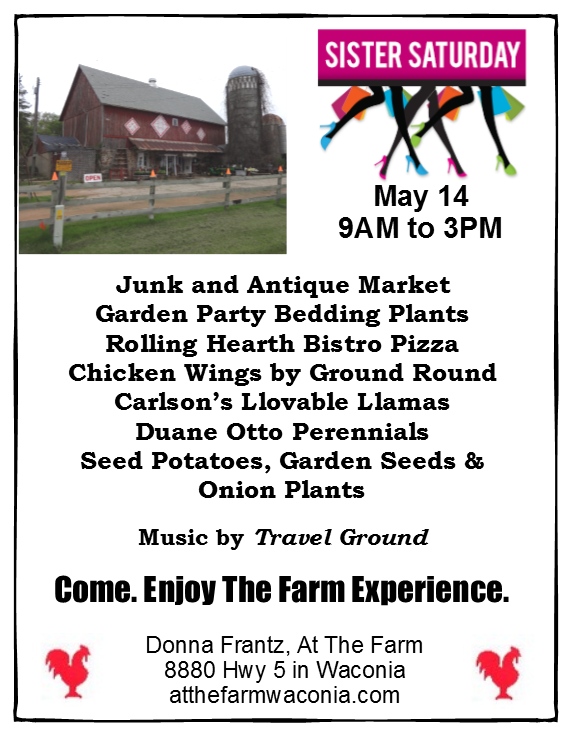 ---
Celebrate The Harvest September 27, 2014
September 27 I will have an event, Celebrate The Harvest from 11am to noon. I will have a food demo. Mark Huebner is from Waconia and was one of the four finalists on America's Best Cook on TV. He is great to learn from.  I will also have Clark Machtemes play his banjo from 11am to 1pm.
Antique Loft will be open, Christmas Shack open, everything for your fall decorating will be available.
The Art Wander is September 26, 27 & 28 for Artists of Carver County. Pick up a map at my Farm. We have a great Art Studio called Unearthed Arts at 44 West Main in Waconia. They are open Mon-Sat 10am-5pm. A great treasure.
Sisters Saturday Celebration
May 10, 2014  9am-3pm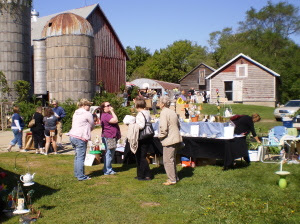 Junk Market  9am-3pm
Antique Appraiser 10 am-1pm
Master Gardener  10 am-1-pm
Travel Ground Music 11am-1pm
Jim Gilbert book signing Minnesota Outdoor Wonders  10am-12-noon
Cooking Demo He is in America Best Cooks on T V   11am-12-noon
Artisan Breads, Scones & Coffee
Come and enjoy the farm for all we have to offer you.
Best selection of bulk garden seeds, seed potatoes, onion plants and sets in Carver County
At the Farm
8880 Hwy 5
Waconia, Minnesota
952-442-4816
Donna Proprietor
West of Victoria 4 miles or 2 miles east of Waconia
LINK to Waconia Events like Sister Saturday, Nickle Dickle Day, D.E.A.R. Hunting and more!
---
2013 Events
Celebrate the Harvest – September 28 – 9 am to 3 pm
Local Apple Vendors, Apple Pie Contest, Apple Square Treats and Caramel Apples
Music – 11 am to 1 pm – Clark Macktemes and Traveled Ground
Popcorn Wagon
St. Bernard's Church Ladies Quilters – Artists
Mackenthun's Deli from St. Boni
Shepards Way Farms Sheep Cheese
Schram Winery of Waconia
Antiques and Christmas Loft
For your Fall Dress! Pumpkins – Winter Squash – Gourds – Hay Bales – Mums – Willows – Corn Shocks – Colored Corn – Mini Pumpkins
---
Sister Saturday Celebration – May 11, 2013
Junk Market – 9 am through 3 pm
Jim Gilbert, Naturalist Minnesota's Outdoor Wonders 10 am to noon
Tea in Loft – 10 am to noon
Food – Fun – Experience the Farm