October is Here
Where Did Summer Go
Send out a Cheer
No More Grass to Mow
---
Hello!
Yes, the frost is on the pumpkins. Daylight is getting less. Its soon time for nesting. Change our food to squash, yams, fall cauliflower, soups, etc.
As Jim Gilbert from Waconia, who does Nature Notes on WCCO Radio, says, "One season slips into another."
When its time to undress your gardens, take all the dead plants out of it, then turn the soil over. The soil needs to rest and breath snow, rain, and freeze is good for the soil.
You can plant garlic this month. Don't use garlic from the grocery store. You need garlic for planting. Plant when the weather gets cooler. As you do not want it to grow this fall. Cover 6 to 8 inches with straw, hay or corn stalks. Remove cover in late February or March. It will start to grow and the stems will not be straight.
After the freeze, you can dig bulbs that are not winter hardy, Cannas, Dahlias, or whatever you need to bring in.
We will harvest Pop Corn after it has a frost, then dry it in a greenhouse. It gets shelled after Thanksgiving for sale in 2018. I love home grown pop corn. If you have never eaten it you need to try next year. You will not go back to store pop corn.
The Brussels Sprouts also need a light frost to be sweet. It can be bitter if it does not get a frost. It's a science to farm.
Marc at The Noble Lion in Victoria has changed his menu to fall, it's great food. Wonderful for me to be The Farm To Table. I have limited produce as a lot is done for the season. He is a great boost to my farm. Really helps to have people enjoy the food. When you are there, tell him Donna sent you.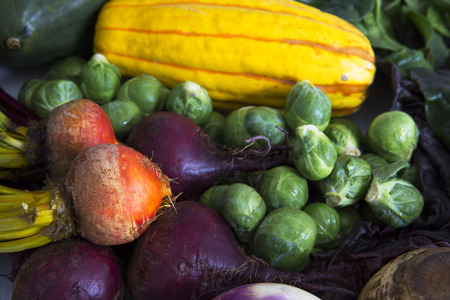 I'm Picking Organic
Beets
Peppers
Candy Onions
Green Onions
Herbs
Potatoes
Eggplant
Local Grown – Fill Your Willow Basket
Sweet Corn
Tomatoes
Yams
Red Spuds
Zucchini-Green
Chub Cucumbers
Slicing Cucumbers
Apples – Chestnut Crab, Honeycrisp, SweeTango, Harrelson, Fireside
Winter squash – Acorn, Butternut, Buttercup, Butterkin, Carnival, Spaghetti, Sweet Dumpling and Ambercup
Cauliflower
For Your Fall Dress
Broom Corn
Corn Shucks
Miss Campus Grass
White Pumpkins
Mini White & Orange Pumpkins
Gourds
Grape Vine Wreaths
Color Corn
Mums
Orange Pumpkins
Specialty Pumpkins – Blue Doll, Porcelain Doll, One Too Many, Long Island Cheese, Lady Godiva, Fairytale, Cinderella and Jarrahdale.
Enjoy!
Donna