What happened to Summer?
The Fall Colors are Coming
I think it's a bummer
And the woodpeckers are drumming
Hello!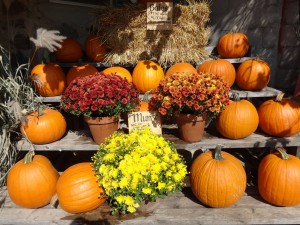 Aren't the land and fields lush? I can't remember anything so green.
I had a light frost on Basil, some Cucumber Plants and Beans, but the rest looks great! My furnace came  on in the house so it must have gotten cold.
Had 4 kittens go to new homes. Had 3 tabbies that looked alike and they went to a farm. They were needed there. Had one that had white paws, looked like a strip Gopher. That one went inside to a house. They were a friendly bunch but I have 3 cats for the farm and that's enough until next spring when there is always more.
The fall dress has arrived. Great selection of pumpkins, corn stalks, grass, mums, a lot of product to decorate the entrance to your house. I have great    specialty pumpkins, feather grass, large, medium and small pumpkins, fall mums, gourds, color corn, mini pumpkins, hay or straw.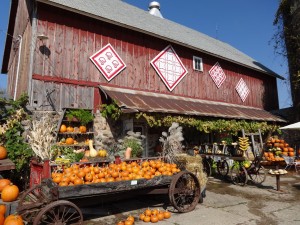 I have had a lot of Barn Quilt tours this fall. Its so great to share the passion for the quilts. I have 4 on my barn and one on the back of a shed. I will host a gathering for all who have quilts on their barns on October 6. It will be great to meet them.
Happy Harvest! -Donna